Retarder Proofers for 2 or more trolleys
Modular Retarder Proofers available in a wide range of dimensions and configurations, ideal to control the leavening of bakery and pastry products. By managing temperature and humidity the leavening process can be slowed down, to allow the baker to prepare it during the day and find it perfectly leavened and ready for baking the next morning.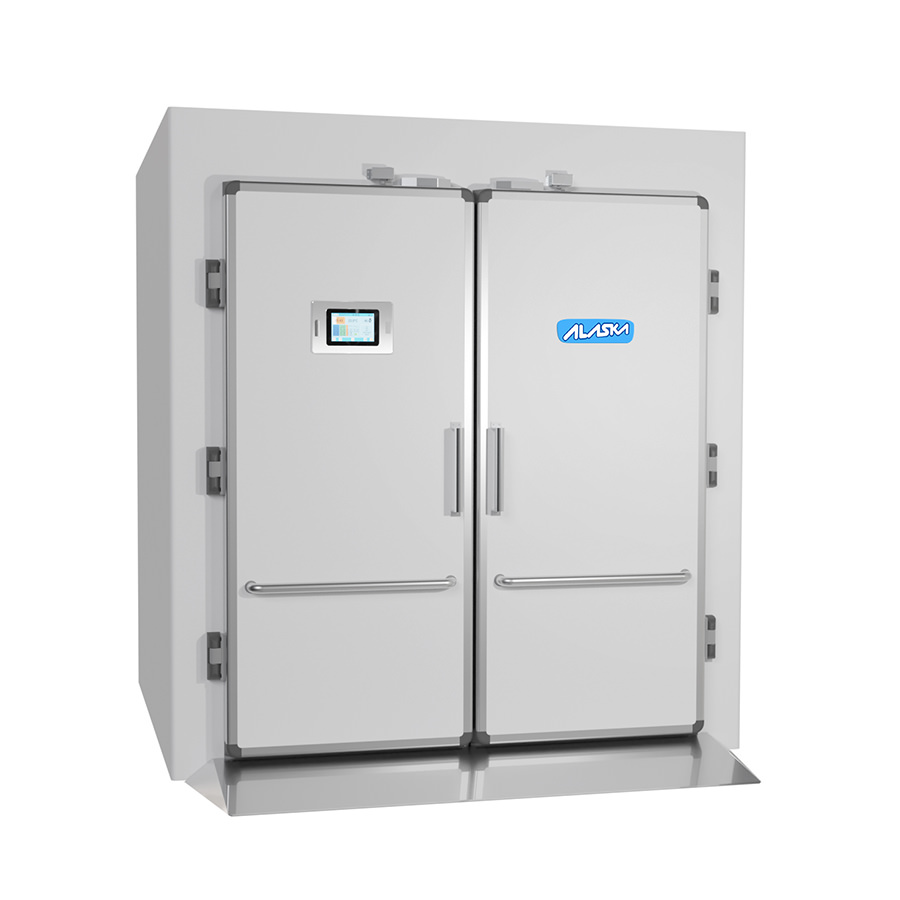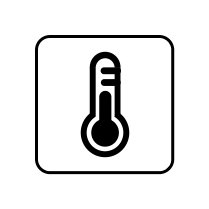 Temperature

Humidity

Duration

Fans speed
Retarder Proofer advantages
Thanks to its humidity and temperature control, the Retarder Proofer cycle allows with its 4(+1) separate phases to delay and control the leavening process and obtain a perfectly leavened product at the desired time.

Rapid cooling to block yeast activity

The product is kept at low temperature, the rising process is still suspended

The temperature begins to slowly rise, the rising process restarts

The proofer slowly reaches the set temperature and humidity, the rising process is completed

Optional step to block the rising once again by reducing the temperature, useful to keep the product ready for baking at a later time
Retarder Proofer at night, Proofing Chamber during the day!
A Retarder Proofer fulfils its main duty at night but can also be profitably used during the day as a proofing chamber!
Retarder Proofers can work in both heating and cooling mode, which means they are able to ensure a better leavening process compared to traditional proofing chambers with heating system only.
With a Retarder Proofer it is always possible to reach the desired temperature and humidity in every season, even the hottest ones, ensuring an uniform leavening with a constant duration.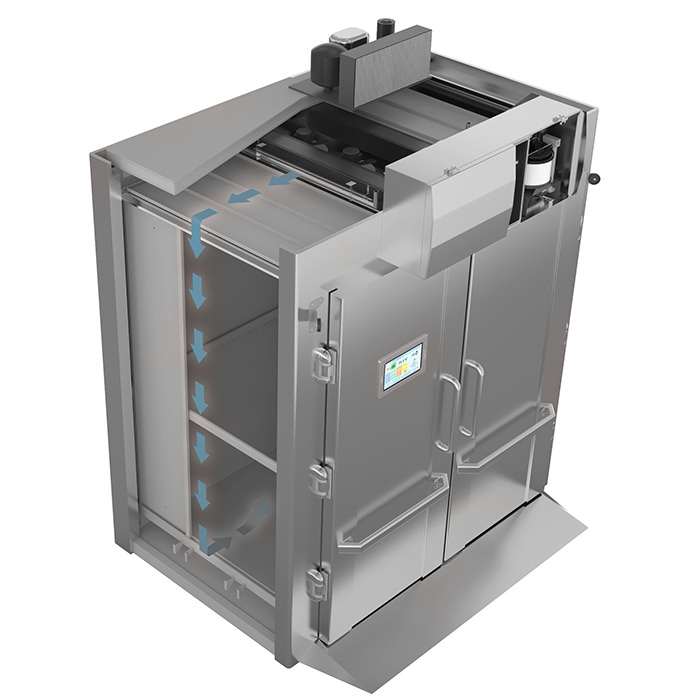 Uniform air and humidity distribution
Alaska Retarder Proofers stand out for the presence of the components dedicated to adjust their internal conditions along the whole depth of the chamber:
Evaporators for cooling

Steam diffusor for humidity control

Resistances for heat generation

Fans and internal panels for airflow direction
Only in this way a uniform humidity and air flow can be ensured, leading to a final product of higher quality and uniform leavening in every point of the chamber. This prevents technological issues such as "skin" effect on the product surface or different leavening stages in different points of the chambers
7" touch screen control panel for Industry 4.0
New 7" capacitive and high-resolution touch screen control panel, with intuitive programming and placed on the door for ease of access.Equipped with Alaska Software LEV4 PLUS with:
Set and current values always displayed

Manual mode for Chilling, Conservation, Rising and Rising block

Automatic mode with complete Retarder Proofing cycles, customisable in each phase

Programmable start and finish cycle times

Tabular and graphical HACCP log with temperature and humidity history, downloadable on USB

Wifi for interconnection with Turri Group Web Platform
Frigopan series is produced in 4 different configurations, each one available in a wide range of widths and depths. For special requirements Alaska also produces custom tailor-made proofers.
Standard features
Optional ▾
Downloads ▾
Standard features
Temperature adjustable from -15°C to +40°C

Humidity adjustable from 55% to 95%

White zinc-plasticized interior finish

White zinc-plasticized exterior finish

Panel insulation thickness: 70 mm

Active humidity regulation

Carriageable floor thickness 70 mm with AISI 304 stainless steel interior finish

AISI 304 stainless steel air ducting 

Evaporators of our own development with evaporating coil cataphoresis-treated and AISI 304 stainless steel condensation recovery tank

Automatic defrosting with heating element

Electronic humidifier with immersed electrodes

Tropicalized refrigeration unit

Electronic humidifier with immersed electrodes

Electronic control with 7" touch screen graphic display installed on the door

Alaska LEV4 Software
Optional ▾
Downloads ▾
Our proofers are at your disposal!
You can come to our headquarter and try your recipes working with a laboratory 4.0!
Fill out the form, you will be contacted in no time!